Luang Prabang is an UNESCO world heritage site with its cultural charms. It has been preserved since the French colonial period.
Zen Namkhan is a relaxing resort nestled in an atmosphere of tranquility and natural beauty and within driving time of around 30 minutes from Luang Prabang.
In this place, your electronic appliances like television and telephone in your chalet will be replaced by sounds of wild insects and chirping birds of lilac hues in the morning. There is hardly any access to wi-fi and this provides you with a haven of eternal peace and bliss.
There is a genuine home stay atmosphere. There is no registration, no deposit and no signing of bills ! From day one, you will be welcomed into a warm abode by its Laotian staff backed by some Europeans doing their gap years.
The owner of ZNKR is Luc Delorme, a down-to-earth French Canadian with a wonderful sense of humour. Luc Delorme used to be in the real estate business in Montreal. He was looking for a piece of land to build a small house and by coincidence; he met a Laotian farmer who owned a wonderful piece of land. He converted it into a tropical resort of lush greenery with chalets, a fireplace and a swimming pool.
It was an instant success. Luc's years of experience with building construction were helpful.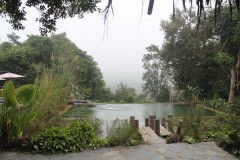 At this resort, guests can swim in a swimming pool swarming with tiny fishes and water lilies. During the cold season towards the end of December, guests can sip wine and chat at fireplace.
There is no need for any wake up calls in the morning. The elephants in the nearby camps will inform you that dawn is near.
He said: The natural forest and the attractive topography that provide me with the incentives to build a resort with a spectacular view.
Our outdoor activities include trekking, kayak and elephants trail rides. There are 3 elephant camps nearby. It is also a place for yoga and meditation and away from the bustle and hustle of city life.
For writers and authors, the best place to stay is its Japanese chalet. It is near its river jetty and very isolated from the rest of the chalets.
Luc explained: This villa is very isolated with a large deck in front of the river and a pond with a landscaped waterfall. A guest can indulge himself, enjoying a Japanese bath with no distractions.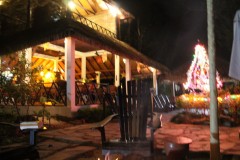 Many guests and travel writers have reviewed this resort. A fellow Canadian academic and writer, Roger Connah, gave a review of this five star natural resort. He fondly recalled Zen Namkhan with such words:
ZNKR is a taxi ride from the airport of the Royal City of Luang Prabang. Daily the ritual of climate, light, solitude and company offer more than rare moments. Here the landscape is large, wide; it never fails to merge into a serious environment. Nature is understated but also overwhelming. For what else could jungle, river and mountain offer? At 7pm the Namkhan River and valley begin to disappear, and the mountains close for the night enveloped in the darkest darkness you've ever experienced.
Take yourself down to watch the fast flowing River Namkhan. Sit on one of the balconies, for example, in the house called Serenity. Expect craft of all sizes: the small Laos boats with fishermen, the regular wide bamboo platform boat with two small houses on, or the long racing boats with their oarsmen chanting in rhythm. Watch rain swell the river into torrents of sandy colored liquid. Look across at the dense riverside and try and make out shapes. See layers and layers as nature folds into itself.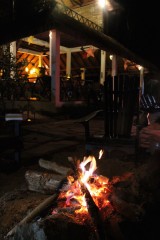 Or sit up on top of the main building with its grass roof. Look across at the dense forest beyond the river. Imagine the valley behind and then the jungle beyond. Behind these the mountains frame the whole view. On top, way up high, there is a plateau. Small communities herding their buffalo. Sometimes they lose them and have to go down into the valley. Expect clouds to fill up spaces as darkness arrives. Stay until 7 in the evening and watch a spectacle in all likelihood you have not seen before.
For more information, please contact:
Luc Delorme
Luang Prabang, Laos
(856) 20 55571127